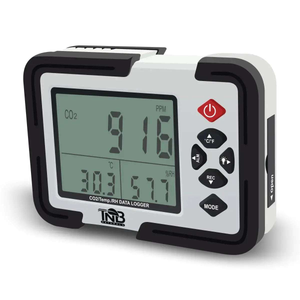 TNB Naturals CO2 Monitor and Thermo Hygrometer is a sleek portable unit that has been developed to monitor and display CO2 concentration, ambient temperature and relative humidity, along with the year, month, date and time.
The monitor has a 3.5' LCD display and is USB compatible with a logging memory of 12,700 units. It has an accuracy of + or - 50 PPM and has the capability to read CO2 levels as high as 9999 PPM. The unit features a built-in warning alarm for high levels of CO2 and the option to display the temperature in Celsius or Fahrenheit. It has a built-in backlight that illuminates the display so that monitoring levels in the dark or during the night cycle can be done with ease. The monitor has the ability to operate from the standard power adapter that is included or 4 AA batteries.
The light weight of the unit (only 9.2 oz) makes it easy to transport or move around from one area to another if necessary. It also comes with a hard plastic carrying case for those on the move, making it extremely easy to use and very versatile. This unit is a must have for any grower that does not know their environment's CO2 level or is looking for an efficient way to monitor temperature and humidity.