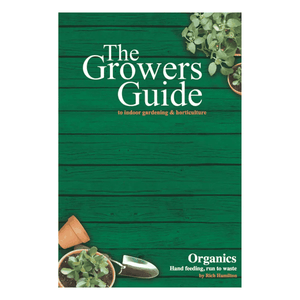 The Growers Guide Book 3 - Organics. The Growers Guide book 3 is all about learning how to grow with organics. 
The Growers Guide will give you, the grower what you need, a concise, easy to follow guide. It is just as useful for experienced growers who want to refresh their techniques with some new ideas and tips.
The book is packed full of advice and recommendations for equipment and products from some of the most well known and reliable brands in hydroponics. Every chapter comes complete with colour pictures, diagrams and step by step instructions as well as a full shopping list of items that you will need for each stage of your grow. I have used my many years of experience in indoor gardening and streamlined it in order to produce this comprehensive guide to what you need to know. You should think of The Growers Guide as a recipe book, it is not by any means the only way to grow indoors but without doubt it will give you the tools and the basic skills needed to get you started, helping you to build your confidence so that you can move forward, experiment and in time find your own style.
The Growers Guide is ultimately a philosophy "what you give is what you get" and I know that if you give it a go and really get into the spirit of all the advice and tips that I have given that you'll really get into it. So take the philosophy on board and run with it as I guarantee that if you put in the maximum amount of effort, you will see amazing results time after time.
Welcome to the revolution
Learn how to grow Organically from start to finish. 
Written by: Rich Hamilton